The General Agency started in 1954 with a focus on helping professionals obtain affordable insurance.
Our agency began by offering personal disability insurance to Charleston attorneys, which would later expand to attorneys across the state of South Carolina.
Our Line of Insurance Plans
Over time, our product line expanded to include, life insurance, business overhead disability, health insurance, professional liability and business owners' property protection. Today, The General Agency serves a variety of professionals, including dentists, certified public accountants, physicians and optometrists.
Learn More About
The General Agency
John D. Cappelmann, Jr., our chairman and founder, set the direction and growth of The General Agency by providing personalized insurance advice to professionals. Today, John "Chip" D. Cappelmann, III is the second generation to lead as president of our company. He works alongside Bill Cappelmann, vice president, Donna Cappelmann, secretary/treasurer, and a staff of nine other members.
Contact The General Agency Today
At The General Agency, we maintain a long-term commitment to delivering insurance products and offering our reliable services to professionals in South Carolina. We welcome the opportunity to discuss how The General Agency can help to protect your assets and meet your specific needs.
Who We Serve
Since 1954, The General Agency has had the privilege of assisting a variety of professionals and state employees by finding affordable insurance plans for all aspects of their practice. Whether you need one policy to protect yourself or a complete package to cover your entire business, The General Agency can help.
Dedicated to Finding the Right Insurance Policy
We work closely with CPAs, attorneys, dentists, optometrists, South Carolina state employees, oral surgeons and physicians throughout the state.
The General Agency is committed to delivering the high-quality service that can help protect your assets as we strive to exceed your expectations. For assistance finding coverage, contact our independent insurance agents at The General Agency for a quote.
Why do business with The General Agency?
Unlike a captive, or direct insurance company who only offers their own proprietary products, our agency is 100% independent of any one company. Many insurance consumers don't fully understand just how important that really is.
When it comes to something as important as insurance, it's imperative that you work with an agency who has an in-depth knowledge of multiple insurance products, companies, and guidelines — not just one.
At the end of the day, what separates one agent from another, is their ability to proactively service their policy holders, and their knowledge of the insurance industry, products, and different situations that may present themselves to their clients.
Independent Agent Vs. The Rest
Here is a quick comparison of the differences between an independent agency like us, and the various other types of companies that are out there: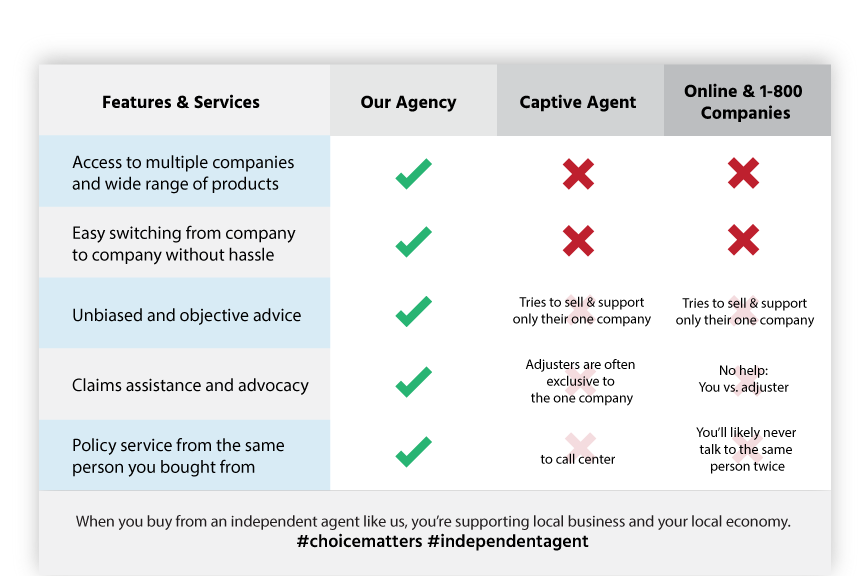 If you'd like to get started with a complimentary quote and/or policy review, we'd be happy to help you any way we can. Simply complete the fields below to get started online in a matter of seconds.
We appreciate the opportunity to help you, and look forward to servicing your insurance needs! Feel free to call us directly if you have more detailed questions.
Insurance coverage cannot be bound or changed via submission of any online form/application provided on this site or otherwise. No binder, insurance policy, change, addition, and/or deletion to insurance coverage goes into effect unless and until confirmed directly by a licensed agent.